Hebden Sound Product Range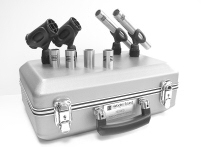 The HS3000 series of microphones are a detachable capsule system permitting the user to choose between Omni (HS10), Cardioid (HS20), Hyper-cardioid (HS30) and sub-Cardioid (HS40) directivity patterns. All capsules give a wide frequency range and low noise figures making the HS300 series a professional microphone for the professional user.
The phantom-power preamplifier, HS3000, and capsules may be purchased separately, as individual microphones or as stereo pairs. When purchased together, the model number HS3000 of the preamplifier together with the model number of the capsule, e.g. HS10 for Omni, give the complete microphone model number HS3010.
Similarly any pattern microphone may be purchased as a stereo pair, the model number having a "P" suffix, e.g. HS3010P
The HS3000 series microphone fits a standard 23mm microphone clip. These and a high quality anti-vibration mount, may be purchased through our accessory section.
Please use the navigation menu to the left to see further details and purchase on-line if you wish.